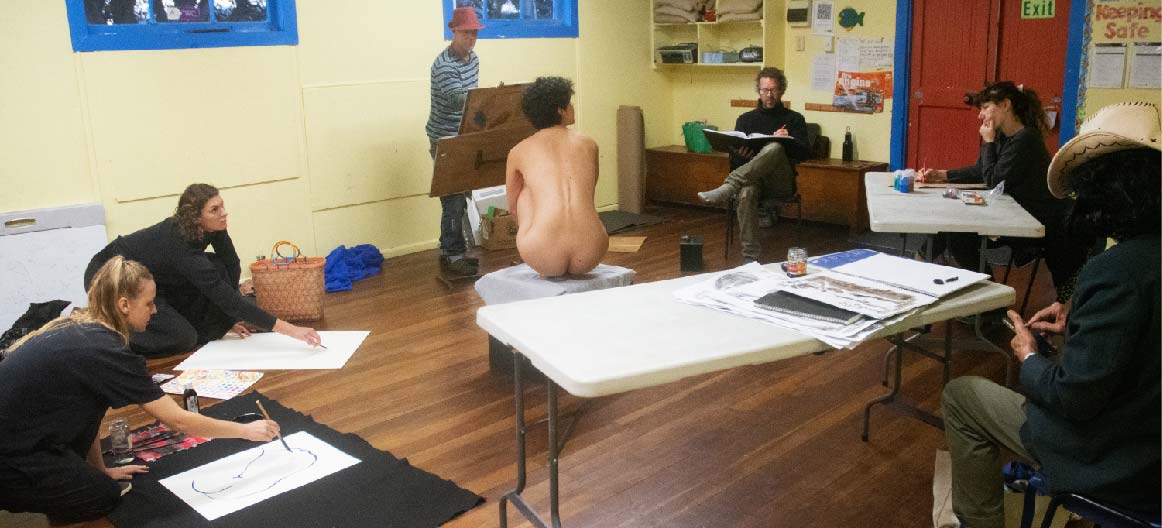 RAGLAN LIFE DRAWING GROUP
The Raglan Life Drawing Group, run by Dominique Marriott, meets up every Tuesday night to paint and draw from a nude live model. The regular sessions cultivate a lively atmosphere where artists delve deeply into the study of the human figure and produce dynamic artwork in the moment.
Artworks created in this setting often exude a vibrant quality because they're crafted within the time frame of the pose, typically ranging from 1 to 20 minutes. This time limitation prompts artists to work with speed, injecting a sense of urgency and intensity into the artistic process, resulting in expressive and energetic creations.
The group dynamic facilitates an ongoing source of motivation, inspiration, collective critique and support on the creative journey.
The enthusiastic group, ranging in different levels of expertise, strongly embrace sharing knowledge and guidance amongst themselves. They foster a supportive environment to develop a practice centred on the figure, welcoming anyone to join their regular life drawing session every Tuesday night, 6-8pm at the Raglan Scout Hall.
Current members are: Dominique Marriott, Doug Ford, Eve Macfarlane, Marten Ten Broek,
Stuart Shepherd, Sarah Bing, Petruschka Heinz, Gia Weiss, Simon Dickey.