Art Medium: Painting, Sculpture
Studio Address: 48a Wallis street
Email: [email protected]
Facebook: carvingsurfart
Open for viewing by appointment during the year.
During Raglan Arts Weekend 2020, 24 -26 Oct, opening times are 10am to 5pm.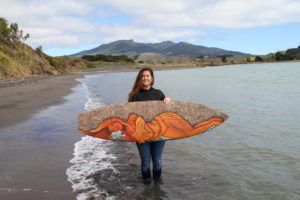 Kia ora
I'm Jess Santorik founder of Santorik Creative. I am based in Raglan on the west coast of New Zealand, a beautiful seaside community where I was born and bred.
​Maori culture has been an integral part of my upbringing. My family heritage is Pākehā/Māori, and I spent my primary school years in a bilingual Māori language unit. This provided me with a deep understanding of the Māori culture.
I grew up in a family of passionate surfers, with the Tasman sea as my backyard I have been surfing since childhood. I was fortunate enough to compete all around the world as a top ranked Kiwi surfer. During my travels I have come face to face with many diverse cultures, and these experiences have had a huge influence on my life.
I am inspired to share my story with the world through my carvings.
About my Art
I have been carving and painting polyurethane surfboards by hand since 2005. The majority of my carvings are made from pre loved surfboards that may have been broken or outgrown, blanks deemed unusable for shaping. I draw my inspiration from my passion for the sea, surfing,  Māori culture and my experiences travelling.  Every individual piece tells a story.
I spent many years harnessing my skills, and my carvings are an integral part of my life. As my story unfolds, my art evolves. Becoming a mother to my beautiful daughter, has really enhanced my creative journey as an artist.
Tena koe